#AskTheFounder: Your Top Questions about Heathmade Hand Sanitizer, Answered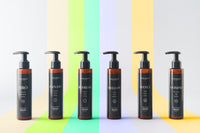 Welcome to your first #AskTheFounder, where Founder Heath and his team – break down our customer's biggest questions.  This month, we're focusing on hand sanitizer: alcohol-free hand sanitizer crafted to meet your hand-purification needs on-the-go.
Our most anticipated product launch was when Founder Heath, at the curious age of four, decided to sell a small batch of hand-crafted hand sanitizer at Clairbourn School's inaugural Entrepreneurial Fair. Years later, our hand sanitizer continues to amaze our customers and spark the curiosity, and questions of people passing by.  Whether you want to know how a kid can make hand sanitizer or you want to know more about how we bottle handcare for you, we've got answers to share.
1. How did a four-year-old learn how to make hand sanitizer?
After Founder Heath finished a week-long Potion's Lab where he discovered the magical properties of plants, he remembered we had a DIY hand sanitizer recipe in our folder of science project ideas.  When the opportunity to rent a booth at the Entrepreneurial Fair came about, without hesitation, Founder Heath set out on a journey to mix, and remix until he had the perfect bottle of hand sanitizer that smells great and makes you feel good.
2. What are the ingredients?
When it comes to ingredients, our hand sanitizer checks everything off the list; we craft our recipe with a handful of wholesome ingredients including aloe vera gel, witch hazel, essential oils, and vitamin E oil.
3. What makes our hand sanitizer different from the rest?
We make our hand sanitizer with love – not alcohol, unlike most hand sanitizers that are full of alcohol.  We are proud to offer you an alcohol-free product that works.
4. If our hand sanitizer is alcohol-free, how does it fight germs?
Aloe vera gel is known to have antibacterial, antifungal, and anti-viral properties, and our essential oil blends have antimicrobial benefits too.
5. Is it safe for children to use our hand sanitizer?
Yes! The whole family can use our hand sanitizer; however, before use on a child, we always recommend you do a patch test on the inside of the elbow and cover it for 24 hours to confirm no allergic reactions.
6. How are we able to make hands feel so soft after each use?
By adding Vitamin E Oil to our recipes, we can lock moisture into the skin to keep your hands feeling soft and smooth.
For all of you passing by, go ahead and give our hand sanitizer a try here – your hands will thank you.