Green Your Routine with 7 Wholesome Ingredients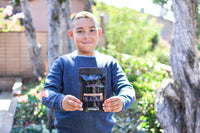 When you know Heathmade, you know simple, clean ingredients.
We choose to craft skincare by mixing seven wholesome ingredients or less into products that work to give you an inner and outer glow. We affirm the power of nature and deliver powerful skincare you can trust, so you never have to compromise your health with conventionally made products or rely on expert advice.
We believe…
the recipe for wellness is so simple a kid can make it.
plants are powerful and the best source of nourishment.
less is more.
Read below for 7 of our favorite ingredients that with put the green in your routine,
Aloe Vera Gel
It's in: Hand Sanitizers
Source: We use 100% pure aloe vera gel
Benefits: Potent with antibacterial, antifungal, antiviral and calming properties to cleanse, soothe and nourish skin.
Essential Oils
It's In: Hand Sanitizers, Lotion Bars, Balms, and Deodorants 
Source: We use multiple sources of domestically and globally sourced essential oils like ylang ylang, sandalwood, tea tree, peppermint, sweet orange, and lavender
Benefits: A holistic treatment with antimicrobial properties to boost mood and purify the skin.
Argan oil
Source: We use 100% Pure Argan Oil
It's in: Lotion Bars
Benefits: Rich in Vitamin E & A Oils, antioxidants and anti-inflammatory properties that reduce the damaging effects of free radicals and reduces visual signs of aging.
Avocado Butter
Source: Obtained by pressing dehydrated, sliced avocados of Persea Gratissima and vegetable oil.
It's in: Lotion Bars and Lip Balms
Benefits: replenishes and hydrates dry skin with fatty acids, and shields the skin from ultraviolet damage with antioxidant and anti-inflammatory nutrients.
Witch Hazel
It's in: Hand Sanitizers
Benefits: nourishes and tones Potent with anti-inflammatory properties that reduce skin irritation and inflammation
Vitamin E Oil
It's in: Hand Sanitizers
Benefits: Protects and softens the skin and acts as a natural preservative due to the rich antioxidant content.
Magnesium Hydroxide Powder
It's in: Deodorants
Benefits: Counteracts odor-causing bacteria on the surface of the skin without blocking pores.